This amazing pup has been in our lives for a year now! She went from living in a barn, being neglected and repeatedly bred by a backyard breeder, who just dumped her when "she stopped producing quality puppies", to a new life with us, coming along on hikes, trips and everything in between. I'm so grateful our paths crossed and to Home at Last Dog Rescue B.C. for taking her in!
Looking forward to more adventures together.💛
Trudy
A letter to Trudy's foster:

I thought I would write you and update you on our new life with Trudy from my perspective.

We've had her now for not quite two months and, as a recent retiree, I can tell you she is absolutely the best part of my "retirement package". When people meet Trudy they always ask what kind of dog it is. I always, always reply "She's a good dog". In my taxonomy of dogs, there are only three kinds: good dogs, bad dogs and junkyard dogs. Trudy is a good dog – in fact a very, VERY good dog. Our cat Darby has his own classification system: ugly dogs, stinky dogs, pack-brain dogs, stupid dogs, really stinky dogs and dogs who lick their genitals excessively. For Darby, Trudy is a cross between a stinky dog and a stupid dog. But Darby has (reluctantly) made his peace with Trudy as she weighs 6 pounds less than he does (Darby is a tad porky) and does not eat his food. Although physically small, Trudy has proven to be an enormous dog who fills up to almost bursting a lot of psychic space in both of us. She is affectionate in the extreme and has in retirement become something of my shadow. On walks she marches like a Prussian; being low to the ground she never misses a scent. It seems likely that the Sunshine Coast is her first experience with semi-rural living – since moving here she has gained the novel olfactory experiences of Deer, Bear, Horse, Squirrel, Rat, Chickadee, Raccoon, Coyote and many other fur and feather-bearing creatures. She wants to make friends with all of them but so far has not succeeded. Darby our cat considers her the very worst hunter imaginable and, of course, that's true. Trudy has also proven herself to be a natural politician and can "work" a room of humans with the very best of politicos. She jumps on any lap available, licks faces with abandon and sometimes when excited (which is often) twirls on her hind legs with her front paws high in the air (I try to discourage this kind of behaviour as it was obviously taught by one of her previous owners to imitate "Toto" in the Wizard of Oz – I am not a fan of "performing" dogs).

Trudy is not without the odd eccentricity: she has rather strange, ritualistic type behaviour before she eats her meals that consists of mock-burying of her food and then staring at it (to see if it runs away?). After a couple of minutes of this she will then gobble it down. She's gained almost two pounds since we've had her and we're happy about that as she began her life with us as a finicky eater. She is also positively obsessive about the squirrel who lives close to our yard and hangs around trying to purloin seed from the bird feeder. When Trudy sees the squirrel she will physically vibrate waiting for just the right moment to bound out in the yard in yet another futile attempt to catch the squirrel. The squirrel has learned about Trudy's behaviour and after the bounding will chatter incessantly for five minutes in what we believe is a stream of squirrel obscenities directed at Trudy. Of course this is exceptionally rude behaviour on the part of the squirrel but Trudy has become desensitized to it (perhaps she's heard it all before).

She also has encountered quite a few deer which, if she wasn't on the lead, she would likely run after hoping to make friends. Instead I hold her tight on the lead with neither of us moving and the deer are so curious about Trudy that they slowly move toward her. Trudy would like us to get a deer as a pet for her but we've informed her (gently) that this is unlikely to happen anytime soon.

Of course she sleeps with us and every morning when we wake up she's quite excited about another day beginning in her new Trudy-life. She sneezes excitedly and rolls over in the bed and then bounds out of the bedroom when we finally get up. Her first task when she enters our back yard is to check on whether that bad, old squirrel is hanging around.

In summary, Trudy is a wonderful addition to our family and we are so very happy to be able to provide her with a good home with a big yard where she is loved and nurtured and very much respected. Some dog owners try to make their dogs an extension of their human self; I'm more interested in becoming an extension of the Trudy's dog nature. After all, humans are highly overrated and we all can learn a thing or two about enjoying the moment as a dog. In our 40 years of marriage we've only had one other dog in our lives; it was a long time ago, the dog was very different and our lives were much, much busier. With Trudy, and all the unstructured time that retirement provides, I've been able to enjoy her as my constantly attentive shadow. She does obsess about me and where I am and what I am doing but no more than I do about her. She does not like to be left alone but when I must do that she is so very pleased when I return. And the high point to her day – besides her two formal walks and her constant vigilance with the squirrel – is when J comes home from work in the late afternoon. Trudy is so VERY happywhen J comes in the door – her cute little features light up with sunshine. And of course that makes J light up as well.

We're so very grateful to you and "Home At Last" for the gift that is Trudy. I've attached the photo we took of the three of us on our 40th anniversary last Sunday.

KC
Seven
Update on Seven! She came home in October after being surrendered by her former owner. At the beginning of December she had major surgery to remove her mammary cancer (53 staples!). As you can see in this recent pic, she's fully recovered and absolutely thriving, especially as an 11-year old, 1-eyed senior! We walk between 2-10 km daily and she's always game to go again. We just started Advanced Level Rally-O after graduating from Novice and look forward to entering a competition soon!
For anyone considering a senior dog - do it!! Senior dogs have lots of love to give and yes, they definitely can learn new tricks.
Thank you HALDR for helping us adopt our perfect doggo!
Crawley
We have climbed 4 mountains so far this summer. He has grown to be a rather majestic mountain dog, don't you think? He is still mischievous with his husky temperament. Happy summer.
Callie
Today, after five months of being with us, Callie was adopted by a lovely couple from Vancouver Island. We're going to miss this little goof so much, but we're grateful to have had this time with her and are excited for the next chapter of her life! To go from spending her days left neglected and alone in a yard, to coming to our home where she began to learn how great life can really be, and now to being adopted into a patient and peaceful home on the island - this is what makes fostering worth it. Please support your local rescue/spca by adopting, fostering, donating or volunteering so that others like Callie can find the homes they so deserve.
Mabel
Mabel is doing great. She is enrolled in puppy classes that start next week. She is enjoying a few days at doggie day care to get some extra socialization and playtime. She absolutely loves it and has make a few good doggie friends. She loves going to the dog park, loves to swim and can not get enough of chasing her ball. She has gone camping with us a few times this summer and loves it. She loves going for hikes or on runs with me along the trails behind our house.
We could not be happier with her.
Daisy
It's been 4 months today that Daisy came into our lives. She truly is the most amazing dog!!! We are so happy with (her). She is a perfect fit for our family :) Thanks so much for placing her with us !!!!!
Kelly
Tuzzi
Tuzzi is doing great, he is my love bug.

I knitted him a scarf to match with mine so we are twins in the winter time.
Kledo
Our boy is coming coming out of his shell, and improving in leaps and bounds! We are all bonding well and can see that life will be good together. Kledo is smart, sensitive, affectionate, calm, playful, and just darn adorable. We couldn't be happier!
Thank you for doing what you do. The fact that there are dogs like Kledo out there getting anything less than the loving home they deserve means that organizations like Home At Last Dog Rescue are essential.
Moon & Star (formerly Jackie & Jasmine)
2 months 3 weeks later and Moon and Star are well established in their new life with us. They are both very timid easily frightened dogs and Moon still struggles with fear aggression issues BUT they are both very bonded to me.

They love being free in our yard, and get so excited when I reach for their leashes to go for our walks. It's absolutely adorable how excited Star gets. She's typically the aloof one of the pair, but show her the leashes and she turns into a wiggle monster. Moon is more playful and goofy. He loves to play fetch while Star stands guard over our Shannon I Gans. No fetch for her royal highness!

They walk perfectly together on leash. Like synchronized swimmers. I love walking them!

I advise anyone who's considering adopting a Formosan Mountain dog from Twaiwan that even though they are somewhat skittish in nature and very protective of whomever they are bonded with....having them in your life is well worth it. They have so many adorable little quirks unseen in any other breed. They move amazingly fast and are incredibly agile. They are like canine mountain goats when climbing rocks. They hop sideways which kills me every time I see them do it. And, their vocalizations are fascinating! They bark, growl, chortle, chirp and howl! Sometimes all at the same time! I only have 2 dogs, but it sounds like I have 6 when someone approaches the house.

Thank you so much for allowing us to adopt them. Our lives are so much richer because of these 2 little hooligans smile emoticon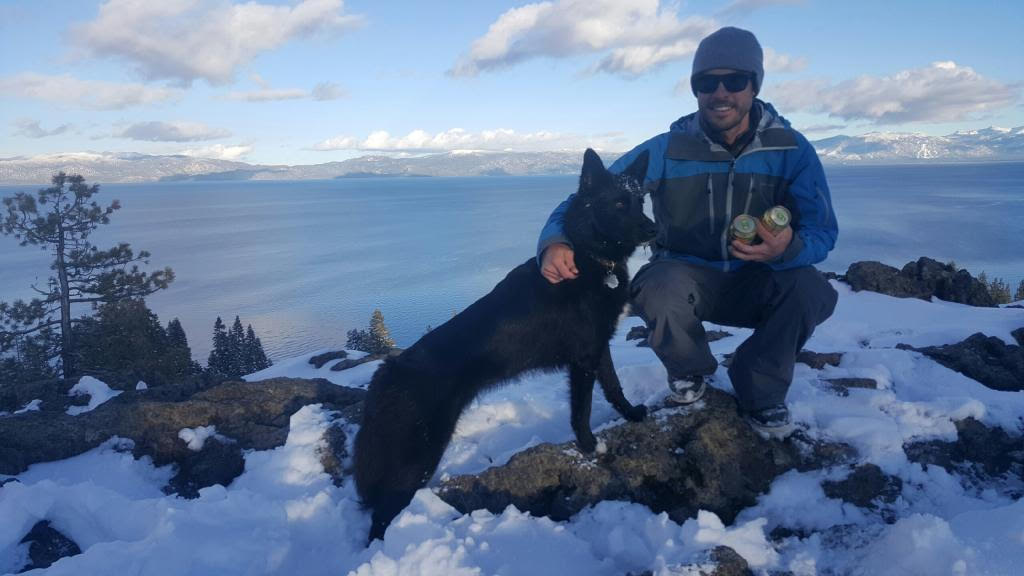 Another Nass Update
Nass and I just got back from a 2 week road trip to California snowboarding. He made so many friends and makes me so proud everyday, I don't know what I'd do without him. Attached a pic of us enjoying a sunset and a beer above Lake Tahoe.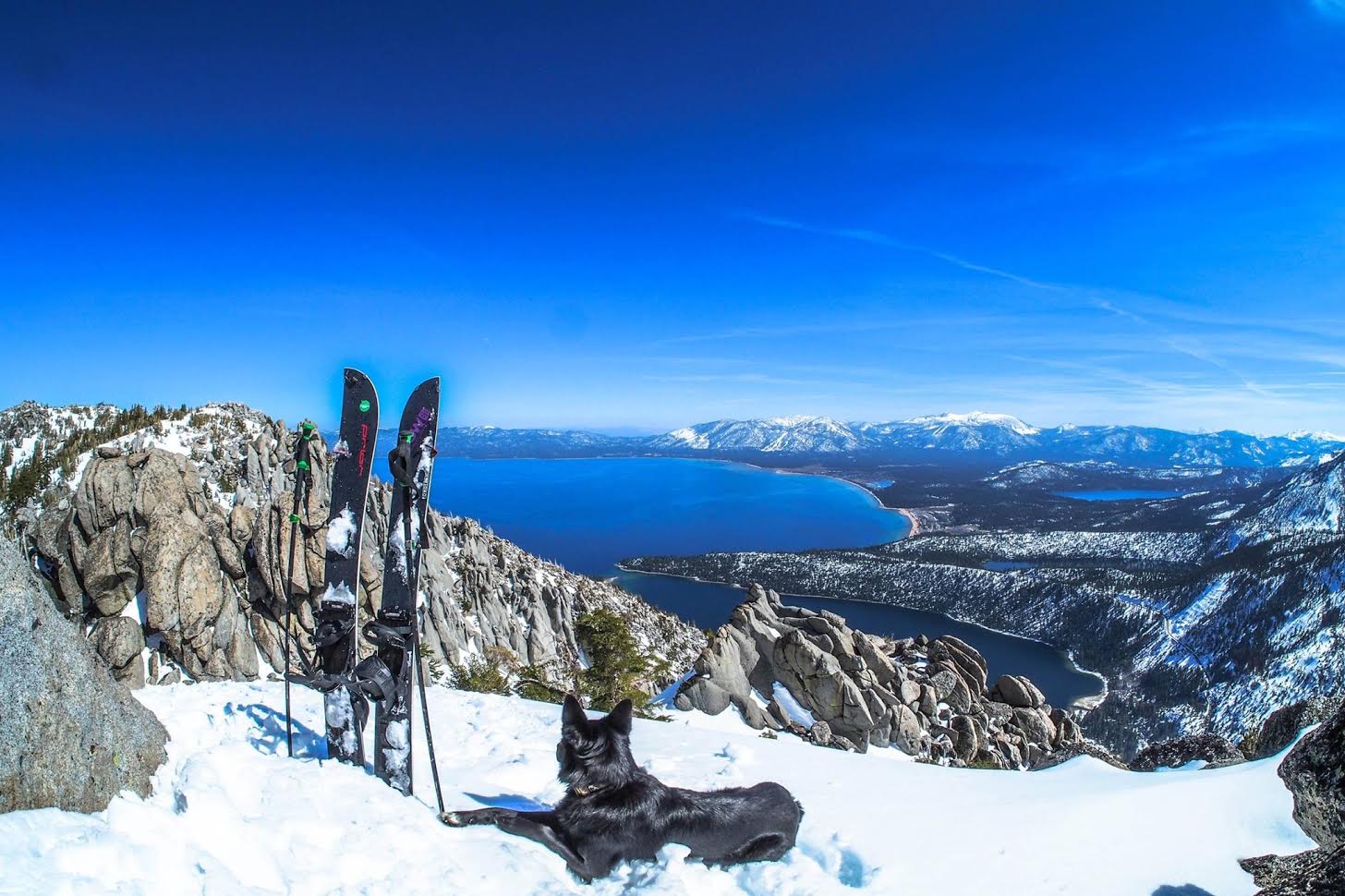 Nass
I am so grateful to you for getting Nass and I together and for all the other dogs you've helped. I'm attaching another shot of Nass above Tahoe, you can see he likes views just like I do. He's done about 30 snowboard days with me this winter.
Tigg
Tigg is doing really well and fitting in nicely. He loves his new diet of raw food & bones as well as raw based kibble, and his coat is nice and shiny. He takes his tracking job very seriously on the acreage and can ferret out anything in those blackberry bushes! He is also wearing a pack with a little weight just to make him work a bit harder and sleeps like a goof afterward. I have nothing but good things to report and he actually has some pretty good manners and training and is a respectful big boy.
Sadie
Just a quick note. To say a Happy New Year before January slips away! Sadie and I spent the afternoon on Granville Island yesterday and then walked back home to Strathcona. On the way we stopped at the Athletes Village dog park, on the waterfront. Here's Sadie just as she enters the park and begins her frolicking with the others sweethearts. Sadie got a pink harness and rosette collar as well as a Swedish puzzle toy for Christmas! The puzzle toy is perfect for those rainy days when are walks are of shorter duration! Yesterday was a day show off how pretty she is in pink!
I wanted to share. We are loving her so.
Karlos
Karlos has found his forever home! There many applications for Karlos, but he knew right away that these were the ones. He instantly took to them and Oreo, his new brother. After the first meeting he didn't even want to go back to his foster mom's home. In the first few hours with his new family, he'd already claimed the prized seat in the house - on dad's lap on the couch! He's settled in amazingly quickly and his new family is as happy as he is.
Spencer aka Jasper
We adopted Spencer (now known as Jasper) a little over a month ago and he has felt like a true member of the family ever since. We assumed that he would take some time to warm up to us and his new situation, so we were prepared to be patient, but from Day 1 he's been happy-go-lucky, friendly, and just felt like "our dog" all around.
We're not the only ones who have fallen in love with Jasper either. Our whole family has been charmed by him, and he's extremely popular! Everyone wants to drop by to visit or take him for a walk. He also has a puppy friend up the street who he sees a few times a week at the park for some rough-and-tumble fun. Jasper encourages us to get up and out for our run every morning, and has even convinced us that swimming in the river that early is fun too!
It took a little while to get Jasper adjusted to a new diet, but he seems to be looking and feeling much healthier now, with extra energy to match! He'll now happily head out on the trails with us for at least a few hours per day with no complaints (well, okay, maybe a few complaints… baby steps!)
When he's not running around in the forest with us, Jasper has been enjoying napping in sunbeams on the patio any trying to play with any dog he sees on TV! We've also recently discovered that Jasper has a knack for impressions: whenever a firetruck goes by, he can howl along with the siren perfectly (and it might be the cutest thing we've ever heard)!
Jasper has already brought so much happiness into our household. We're so grateful that he's a part our life and that we get to be his people!
Nass
Seeing those photos of Bear made me think I should send you a few pics of Nass from this summer. He's thriving! Loves working at the farm all day (sleeping in the shade), biking, fishing, swimming, and he's pretty excited about carrying his backpack into the mountains with me as often as possible. He's always up for adventure, activity, or lazing around. He gets along with everyone and every dog and is very polite and incredibly obedient.
Ramsey
Just an update on Ramsey!! She is an amazing addition to our family. With camping, picnic, dog walks and just hanging out she is growing into her own. She is a loving, funny little girl who just wants to please us. Lea our 6 year old creates obstacle courses in the back yard that Ramsey is to eager to complete for her reward. Building not only her confidence but also our daughters. Everyone that meets our sweet angel can not help but fall in love with her! We are so Blessed to be apart of the process.
Onyx
Here is the update on Onyx. He is doing great, loves to run, fetch and swim. We are working everyday on his training, he is such a smartieand learns quick. He goes to Doggy daycare one or two days a week on a big farm and loves playing with all his doggy buddies. His favourite activity is anything to do with kids. We live next door to our nieces and nephews and he gets outside with them any chance he gets. We had him at the beach lots this summer and he loves to fetch and swim in the water. He jumps in any puddle he can but gets pretty grumpy about having a bath. He is keeping us active, going on multiple daily walks and runs. He is such a sweet funny boy and we are so happy he is a part of our family.
TESTIMONIALS
ONYX: We made the right decision going with your organization to rehome our fur child. We miss him, but are happy that he is with a family that can provide the one on one care that he needed. Thank you so much for checking on him for us.